Getting the most out of your hot water storage heater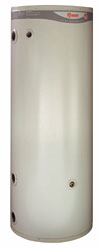 Most manufacturers recommend regular service of hot water storage heaters in order to prolong the life of the heater and to prevent scalding.  Recommended service is as follows:
The tempering valve requires replacement every 5 years
Temperature Pressure Relief valve requires replacement every 5 years
Anode requires inspection or replacement every 5 years
We recommend the above checks and maintenance be carried out by a qualified professional.
One aspect of hot water system maintenance that you should carry out yourself is checking the correct operation of the Temperature Pressure Relief Valve every 6 months.  Correctly operating TPR valves should prevent hot water heater cylinders failing or exploding.
To check the TPR valve (located at top of heater – check the side of your hot water heater or user manual for more details), lift the lever for 10 seconds.  Water should flow from relief pipe at the bottom of the tank. When you release the lever water flow should stop.  This indicates correct operation of the TPR valve.  During heating cycles the valve should only release a small amount of water, however continued leaking water in use indicates a fault with the TPR valve.  You should contact a qualified professional as soon as possible to investigate and resolve the problem to avoid further damage to your heater.
Going on Holidays?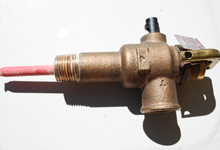 If you are going away from home for more than 2 days we suggest you turn off the power and water to your hot water heater to conserve energy and also to prevent hydrogen gas accumulating in the top of the water heater.  Hydrogen gas is a highly flammable gas which if not vented from the system can cause explosions from any appliance connected to the hot water service (for example, washing machines etc).
Hot Water
Electric water heaters have been identified by both the State and Federal Governments' as the biggest users of electricity in a home – the NSW State Government indicates that if you own an electric water heater it could be accounting for up to 37% of your household energy consumption. Because most electricity in NSW is generated from coal-fired power stations, electric hot water systems also emit the most greenhouse gas emissions. For this reason these electric models will be phased out. They will have to be replaced by energy efficient solar models or high efficiency gas systems once this becomes law.
You can expect to save 3 tonnes of CO2 per annum by switching from electric to solar water heating which is equivalent to taking a 4 cylinder car off the road. In addition, you could save between $300 and $700 per year off your energy bill. With energy prices continuing to rise this is a great way to save now and in the future.
Gladesville Plumbing Services has gained the status of becoming a Solahart Select Plumbing Outlet meaning we are a preferred supplier of the number 1 brand in the Australian market.
To find out more about the advantages of solar water heating please take the time to give us a call and arrange an obligation free in-home consultation at your convenience.
Do you have a gas leak?
A gas leak, smells of rotten eggs. If your gas meter dials are turning whilst there is no gas in use, then this indicates a gas leak is present. Don't ignore these potentially dangerous signs, call your local Sydney plumbing and gas fitting experts right here at Gladesville Plumbing Services.
How to prevent a burst water pipe or a burst gas pipe.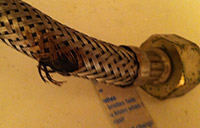 As per manufactures guidelines, all stainless steel, rubber flexible pipe connections need to be replaced every 10 years.
They are found on basins, toilet cisterns, mixer taps, washing machines, dishwashers, hot water systems, bidets, drinking water systems, gas cook tops, gas ovens, upright gas stoves, and gas room heaters.
Call us today for an obligation free inspection to prevent a flood or a gas explosion.
Keep watching this space for more information – we will be providing regular updates.