Gladesville Plumbers know their stuff. We provide comprehensive plumbing services to Sydney homeowners, businesses and industry.
As commercial plumbers, we can work in partnership with builders to provide plumbing infrastructure on commercial properties. We can also help you built a new home, perform industrial repairs or extensions and we pride ourselves on doing an excellent job.
Drainage and Blockages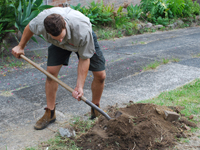 We have fully equipped vehicles ready to tackle your sewer or storm water drain blockages. You can trust our experienced plumbers to get your drains flowing again!
We also carry CCTV equipment to pinpoint and examine any problem areas without needing to tear up your yard.
If your pipes need replacement, we can also excavate and remove damaged areas of pipe and replace with new pipe – with as little disruption to you as possible.
Gasfitting & LPG
Do you need a gas point for your BBQ, or your existing LPG BBQ converted to natural gas? How about a bayonet for that room heater? Or an entire new gas service? The friendly staff at Gladesville Plumbing Services can discuss all the options with you and provide you with an obligation free quote and advice. Call us to explore how our gasfitting services can help enhance your indoor and outdoor lifestyle, benefit the environment and save your hard earned cash!
Taps and Toilets
Is a dripping tap keeping you up at night? Is your toilet running constantly? Don't let your precious dollars go down the drain, call us today for expert advice and service, with our fully stocked vehicles at your door ready to supply and fit the parts you need to solve those annoying problems.
We also have a range of taps on board for your ease of selection should a new tap be required.
Hot Water Services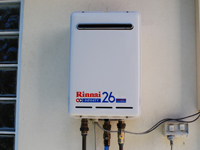 Here at Gladesville Plumbing Services we are on call 24 hours a day, 7 days a week for any emergency hot water problems that may crop up. We can service and repair your existing system, or supply and fit a new system to suit your needs. We supply all major hot water heater brands (gas, electric, heat pump and solar) and are happy to discuss your options with you on site and provide you with an obligation free quote.
Water Leaks
Water leaks can cost you serious money and cause damage to your home, not to mention the waste of precious water. We are equipped to repair or replace leaky pipe-work fast and efficiently.
Commercial Plumbing Maintenance
We are the maintenance plumbing experts, whether your problem is big or small, you can trust us to get results.
Gladesville Plumbing Services caters to the needs of domestic clients as well as meeting the needs of commercial and strata clients. We are also equipped to handle industrial work – so whatever your needs you can count on us.
Thermostatic Mixing Valves and Backflow Prevention Devices
We are fully accredited to install, test and repair Thermostatic Mixing Valves and Backflow Prevention devices. Call us today to discuss setting up a service schedule program to meet your legal obligations.
Plumbing Renovations
Let Gladesville Plumbing Services help take the stress out of your bathroom, kitchen or laundry renovation. We can consult with you to design a plumbing solution to meet your needs.  Need a commercial plumber in Sydney?  Talk to us about plumbing needs at your store, office or site and we'll help your business to grow smoothly.
Envirosolutions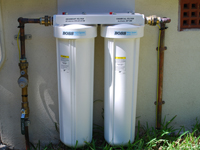 Ask us about our environment friendly services such as rainwater harvesting, water efficient taps and toilets, five and six star rated hot water systems, solar and heat pumps.
Roofing Maintenance
Leaky roof? Rusty gutters? Are you sick of constantly cleaning leaves and debris from your gutters? Call us today – we can fix that leaky roof, repair or replace those old rusty gutters or install some leaf proofing to solve your roofing problems.