WHY ARE NORTH SYDNEY PLUMBERS SO EXPENSIVE??? IT PAYS TO SHOP AROUND
So you want to save money on your plumbing bills? Of course you do! We understand the apprehension that surrounds the cost of hiring a plumber, but read on for expert advice that will assist you in hiring a plumber in north Sydney who offers great service at a fair price.
Save money on your plumbing bills
Save money on your plumbing bills by making some key adjustments around your decision-making. Here are few tips to help you get the service you need without sacrificing your wallet.
1. Research and shop around
Often people will wait until they have a plumbing problem before they call a plumber. Trying to find a tradesperson when you're desperate can lead to a rushed decision – and choosing someone who may charge more than average in your area. One of the best things you can do for your future self is to research plumbers – and their fees – in your area. You'll want to ask about the plumber call out fee and labour rate. Once you have these details, you can compare prices, and keep the business that fits your budget on dial. When it comes time to call a plumber, you won't make a rash decision that could cost you more.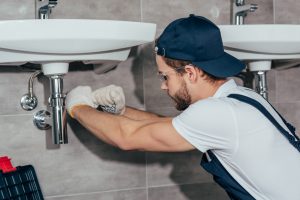 2. Get more than one quote
If your plumbing job is quite specific and large, like a bathroom renovation, get a minimum of three quotes for comparison. Ensure each quote lists what they allow for so you are comparing apples with apples. The cheapest plumber may not necessarily be the best as they may have left out inclusions other plumbers offer as a standard part of their service.
3. Combine all the little jobs into one call out
Multiple call outs mean multiple call out fees. To really save money when hiring a plumber, get the most out of their call out fee by grouping jobs together.
Plumbers are in demand in Sydney so their charges reflect customer need. But when it comes to making the first call or acquiring quotes, price should only be part of the decision. Consider the manner and skills of the plumber and whether you would feel happy with that particular tradesperson in your home. If you're serious about saving money on your plumbing bills, be sure to develop a good rapport with your plumber. This relationship will ensure you get the best service for the price you pay.
At Gladesville Plumbing, our excellent service and competitive pricing is what sets us apart from the competition. That's why we have longstanding clients that call us time and time again when they need a plumber in north Sydney.
Looking for a plumber in north Sydney? Gladesville Plumbing offers professional, reliable service at competitive prices. Our team are ready to book a service or quote for you. Call today on (02) 9817 4777