Plumbed Fridge? FAQS for installing a fridge with a water dispenser
A plumbed fridge offers the convenience of cold, filtered water whenever you want it. For this reason, it's a popular choice is modern kitchens.  
If you don't have a fridge with this capability and are looking to upgrade, here are some FAQS on installing a fridge with a water dispenser.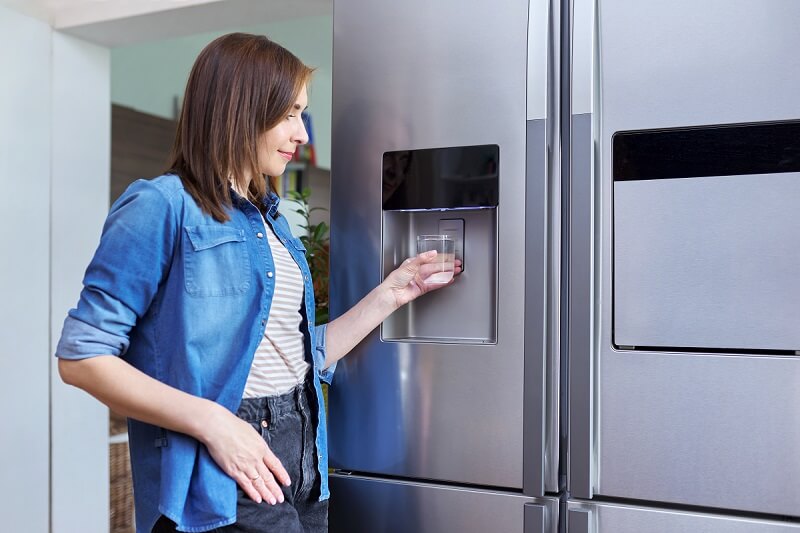 Who should install a plumbed fridge?
When you take delivery of your fridge with a water and ice dispenser, it's best to call a plumber to plumb it in. 
The reasons for this are: 
You may void the fridge warranty by installing the fridge yourself

 

The necessary valves to prevent a flood in the kitchen must be installed by a plumber

 

A water connection may need to be installed to your fridge cavity if there was no connection previously

 
What is needed to plumb a fridge with a water dispenser?
Your fridge will need a separate water connection to allow for the installation of water supply to the filter in the fridge.  
This separate connection will need to have its own isolating valve so the water can be turned off and on for disconnecting or changing the filter. It can also turn off the water feed should any connections burst.  
A flood stop valve is also mandatory to prevent unexpected burst connections from flooding your home.  
Sometimes specific connectors are needed to connect the water filter in the fridge. Your licensed plumber will be able to source these fittings to ensure a trouble-free connection. 
How to keep installation costs down
Some property owners will try to keep the installation costs down by plumbing the fridge in themselves, but this can be a costly mistake.  
If there is ever water damage caused by a burst pipe on an unlicensed installation, your insurance may not accept the claim if the appliance warranty specifically says a licensed plumber should be used for installation.  
The cost in repairing water damage to the kitchen and other areas of the home will far exceed the installation cost of using a plumber to plumb in your fridge.  
Alternatively, you can purchase non-plumbed fridges with a water dispenser to avoid calling a plumber for installation.  
Gladesville Plumbing can install a water point connection and hook your fridge up after delivery. Organising the one callout for both installations will save you money and also time as we will be able to install the water point to where the connection needs to be.   
Contact Gladesville Plumbing
 to install your water dispensing fridge. The installation will be relatively time friendly, offering peace of mind for a professional installation.