Meadowbank is a fast-changing Sydney suburb that's become a real hub for waterfront apartment living. The area boasts high-rise blocks that have been recently developed, as well as older apartments that have been refurbished to keep up with the trend. Apartment living brings with it plenty of lifestyle advantages, but can also bring its own set of plumbing problems. If you're looking for a plumber in Meadowbank, give the team at Gladesville Plumbing a call.
Here are just a few of the common plumbing issues the Gladesville Plumbing team regularly deal with in apartment buildings.
Flooding
Flooding is a problem in any dwelling, but things can quickly get complicated in an apartment block. If a flood occurs in an upper level apartment, there's a risk of damage to one or more apartments below, making your problem everyone's problem. Flooding in a high-rise is one of those plumbing issues that needs expert attention, fast.
The most common cause of apartment flooding is a burst flexible hose, which connects taps to the water supply. If one of these hoses isn't installed correctly or it bursts unexpectedly when a resident isn't home, it can cause major flooding in a short space of time. We recommend that every apartment has flood stop valves on all water outlets where a flexible hose has been installed. This fitting will shut off the water if it detects a hose has burst. If you're not sure whether your apartment has these valves installed, get an expert plumber to take a look!
Leaking hot water units and bathroom overflows are other sources of water inundation in apartments. If one of these incidents occurs, you will need to call a plumber ASAP to shut the water off to your apartment. In some older apartments, the whole building's water supply may need to be shut down so the plumber can fix the leak.
Water hammer
Water hammer is a knocking sound that water makes as it moves through pipes. It can be annoying for residents and neighbours alike. A plumber can investigate the cause of the water hammer and install a water hammer arrestor to stop the noise. Noise carrying between apartments is one of the 'cons' of high-rise living – be sure you're not the guilty party causing the noise pollution!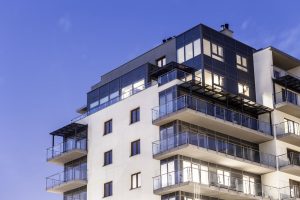 Blocked drains
Blocked drains are as common in apartment blocks as they are in houses. Sometimes the blockage will be located in the main sewer stack of the building; other times, it may be located in a drain in the apartment itself. An experienced commercial plumber will be able to identify the location and cause of the blockage and fix it.
The network of pipes running in a high-rise is very different from a house; it's never a 'DIY' fix. A commercial plumber has the right experience to deal with buildings of this type. Be sure you choose a plumber with training above and beyond the average domestic maintenance plumber.
All apartment blocks are run by a Body Corporate, who might have a contract with a particular plumbing firm. But you are well within your rights to discuss using your own plumber, particularly if you know your plumbing emergency is isolated to your own unit. If you live in an apartment in Meadowbank, check with your Body Corporate to see if Gladesville Plumbing can become your local, commercial plumber of choice.
If you are after a plumber in Meadowbank, Gladesville Plumbing services this area. Contact the team to make a booking today.
Need a plumber in Meadowbank who understands apartment buildings? Contact the team at Gladesville Plumbing today.