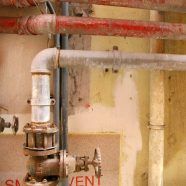 If you reside in West Ryde, you will either live in a fairly modern home that has been built in the last twenty or so years or a typical '80's brick box' which was the common trend of homes in that era. No matter what style of home you live in, the majority of homes in West Ryde will have similar pipe materials used for their water and sewer services. If you need a plumber in West Ryde and want to know the common problems with the pipes in this suburb, read on.
Bows and flat spots in sewer pipes
The waste pipes in the majority of homes in West Ryde are mainly comprised of PVC. PVC pipe is the most common type of pipe used in sewer installations due to its durability and cost to supply and install. What can happen over a period of time due to earth movement is that PVC can get bows or flat spots that can cause a backup of effluent and cause a blockage. The best way to deal with blockages is to use a jet rodding machine to blast the trapped matter away.
Alternatively, to prevent future blockages occurring, a drain camera can be placed down the drain to locate the existing position of the bow or flat line. Your local plumber can excavate and install new PVC pipe to the correct gradient to prevent blockages in the future. While this can be a considerable cost to fix, it may be worthwhile if you are calling your plumber on a regular basis to remove blockages.
Water leaks on copper pipes
Copper is the second most common type of pipe used for water installations. In the 1980's, each copper joint would have been soldered together. Sometimes, due to movement or age, the soldered joints can spring a leak. This is particularly common on the t-section of a shower combination.
If the bathroom is in need of a full renovation, it would be recommended to replace the waste and water pipes before walls are sheeted and tiled.
If you're not in a position to renovate your bathroom, your plumber will offer suggestions on what can be done to fix the soldered points by accessing it from an alternate wall if possible.
Looking for a plumber? West Ryde specialists Gladesville Plumbing can help. Our experienced team will get your pipes running in the right direction. Call us TODAY on (02) 9817 4777