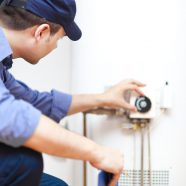 There is an increased demand on electricity services when winter arrives. The use of heating appliances can put pressure on our utility system as well as our back pocket. One way to avoid the bill shock is to swap to gas appliances. If you already have gas appliances installed, it's important to call your gas fitter in Sydney to check over the appliance and detect possible decay or leaks. Here is a checklist of items your gas fitter can check or install in one call out.
Gas Stove Top
If you use a gas stove top or oven, it's a good idea to get your gas fitter to check all the fittings and test all connections for leaks. The stove top is often in high demand over winter for warm meals like soups and casseroles. A simple maintenance check from your local gas fitter will ensure there are no surprise gas leaks during the winter period. Often this is peak demand for gas fitters in Sydney to rectify problems, so organising a maintenance check will prevent an emergency call.
Gas Heaters
Gas heaters are an economical way to heat the home without incurring costly electricity bills. If you already own a gas heater, organise for a maintenance check for any leaks and to ensure the appliance will work throughout the winter season with no issues.
If you are looking for a heating appliance for your home, look at installing a gas heater. A bayonet will need to be installed in your home if it doesn't have one already. One of our gas fitters can install a gas outlet and install the appliance for you so your home is ready for when the winter chills come.
Gas Hot Water Units
Gas hot water units should be checked annually. The reason for this is the inside of the unit can build up with carbon which can affect the hot water unit or cause it to stop working. An annual check-up can test the temperature of the water and ensure all fittings are secure and in good condition while also removing any build up in the unit.
If you're in the market for a hot water unit, why not consider replacing your existing hot water unit with an instantaneous gas hot water unit? This type of unit is economical to run as it heats the water as it's drawn from the tap. Your household will never run out of hot water which is especially important during the cooler months.
Need an experienced gas fitter in Sydney? For all your gas appliance installations and maintenance, contact Gladesville Plumbing. Our experienced gas fitters will have you 'cooking with gas' in no time!