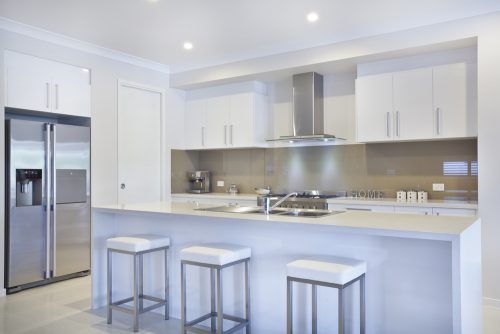 If a kitchen renovation is on the cards for your property and you're considering the best luxury appliances Sydney can offer, it's worth it to do your research first.
Luxury appliances are no longer an indulgent inclusion in kitchens. Often, their integration offers many conveniences and benefits for the home owner, like saving time and money. If it can be done at home, what's the point of dining out or purchasing products to replicate the conveniences your kitchen can offer? We list those little extras that can make a kitchen feel luxurious and the plumbing required for installation.
Butler's Pantry
The butler's pantry is not necessarily a luxurious appliance, but it is a space that can hide your appliances away from view. Integrating a sink, water tap and dishwasher can ensure this room becomes the working horse of the kitchen keeping clutter and mess from view. You'll need to ensure a hot and cold water point and sink waste are allowed for in the design. These can be roughed in through stud walls to prevent external pipes run under flooring or in cabinetry.
Matte Black Tapware and Sinks
A luxury kitchen will forgo what has been traditional and follow up and coming trends. Matte black tapware and black sinks are becoming more frequently installed in kitchens. They not only elevate a kitchen interior, but their materials are hard-working and durable, which are important in a highly trafficable area. Choose an electroplated matte black mixer to prevent the finish from fading. Ideal black sinks are made from granite, quartz composite or stainless.
Ice Making and Water Dispensing Fridge
The water in Sydney can have a distinct taste, which motivates some to purchase bottled water for drinking. Install a fridge with ice making and water dispensing abilities and you can remove this unnecessary cost on the grocery bill. A direct water line is needed for the fridge. If this blows out the budget or a water line is not possible to get to the fridge, a filtered water tap may be a better option.
Chilled, Boiling, Sparkling Water Tap
If you're not able to get a discreet water line to the fridge or have space for the necessary filter and taps, a chilled, boiling, sparkling water tap may be perfect for your needs. This can be installed under the kitchen sink where hot and cold water are readily available. Sparkling water on tap is ideal for mixing drinks when having guests over. This luxury can benefit all and save the cost of buying sparkling water from the supermarket.
Waste Disposal Unit
Some could argue the luxury of a waste disposal unit, as many plumbers take them out for customers when it starts to block up or smell. A waste disposal unit offers an alternative to removing food waste from the kitchen. They do require regular cleaning to remove odours and ensure it runs at full capacity. If you do choose a waste disposal unit, you will need to choose a kitchen sink that has a larger waste opening for the mouth of the waste disposal unit.
Need help with the plumbing during your luxe kitchen renovations? Sydney specialists Gladesville Plumbing can help bring your dream kitchen to life! Contact the team today!