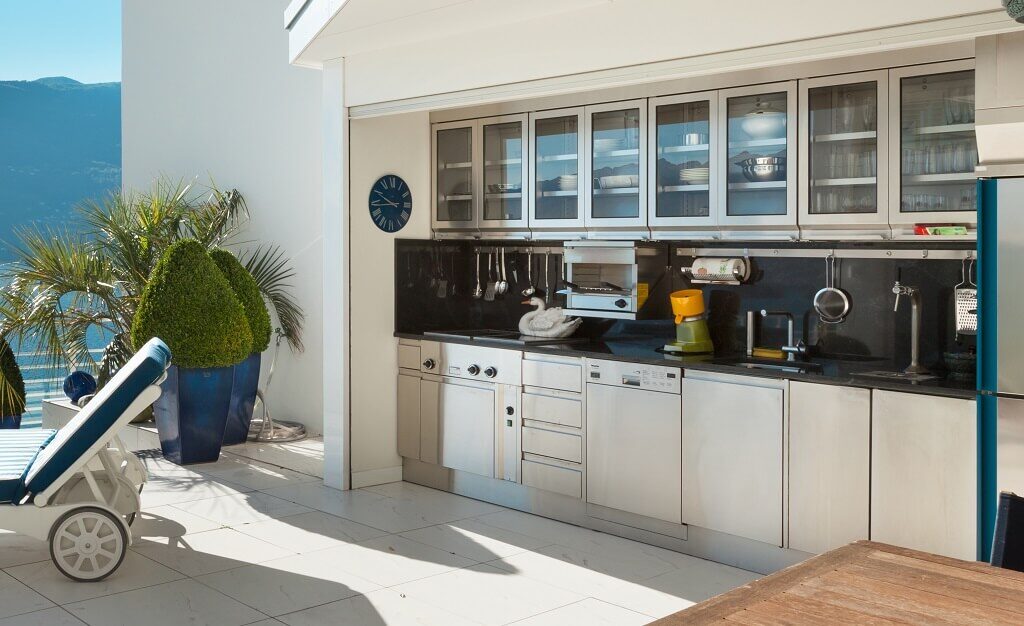 Update your alfresco area with a plumbed in outdoor kitchen
Update your alfresco area with an outdoor kitchen. It's the perfect way to entertain family and friends during a Sydney summer. Find out the trends and tricks for a budget-friendly outdoor kitchen which will make summer entertaining a breeze.  
Outdoor kitchen trends in Sydney
If you have the space for an outdoor kitchen, go all out by getting your plumber to install sewerage, water and gas pipe services to your alfresco area.  
The biggest trend in outdoor kitchens is to have a fully functional kitchen, and this will require plumbing services.  
Key trends in outdoor kitchens in Sydney include: 
Cooking appliances like built in BBQ's and gas stoves

 

Plumbed in fridge

with ice and cold water on tap

 

Kitchen sink and bench space for food preparation or cocktail making

 

Mini dishwasher for ease of cleaning up

 

Under-sink hot water unit for instantaneous hot water through the sink tap

 

Pizza ovens

 
Plumber tips for your outdoor kitchen
When designing your outdoor kitchen, it's important to consider the location of the services required in the kitchen area.  
A plumber will be needed to run a cold water line and gas line to your alfresco area, if the services aren't there already.  
If hot water is a necessity, ask your plumber to install an under sink hot water unit. This can save costs of running a hot water line from your hot water unit.  
By plumbing in natural gas to your kitchen area, you won't ever run out of gas again when cooking on the outdoor stove top or built-in BBQ. However, LPG gas may be a more affordable option for your cooking appliances if a natural gas line is not connected to your property.  
It's also important to think about features of your kitchen which you will get the most use out of. Cold water may be more reached for than hot water. Think about how you will use your kitchen outside as this can assist with the design and budget of your space.  
Benefits of outdoor kitchens in Sydney properties
There are many benefits for an outdoor kitchen in your Sydney property. Here are a few to consider: 
Ideal for outdoor entertaining

 

Changes the atmosphere for week night family dinners  by cooking and eating outside

 

Convenience when relaxing outside

 

Gas BBQ offers an alternate cooking source if a storm hits and you lose power

 

Adds value to your property

 

Alternate kitchen when renovating your property

 
The best time to plumb in an outdoor kitchen is during spring so it's ready for summer entertaining. Planning now can turn your dream outdoor kitchen into a reality.  
If you're eager to install an outdoor kitchen, Sydney plumbing specialists Gladesville Plumbing can provide a quote. Let's help you elevate your family's alfresco experience just in time for Christmas.