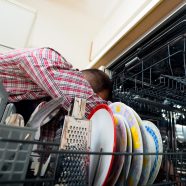 Many would agree a dishwasher should be installed in every kitchen. While older kitchens can be reconfigured to allow for a dishwasher installation, most new kitchens have the space allowance for a dishwasher to be slid into place.
The installation of a dishwasher can be quite an easy process, however, it's important to check if you can do this installation yourself and what to be wary of if it's installed incorrectly.
Dishwashers require certain fittings to ensure optimal performance. It may be tempting to try and install a dishwasher yourself, but here are some reasons why it's best to hire a plumber for the job.
Not Using a Licensed Plumber Can Void the Dishwasher Warranty
Every dishwasher will come with a warranty, and the booklet will state the warranty is void if the dishwasher has not been installed by a licensed tradesperson.
All dishwashers require a licensed plumber to install the plumbing and an electrician for the power outlet.
Licensed plumbers know the requirements of a dishwasher installation. Most handy people won't.
Dishwashers require a mini stop tap and pressure limiting valve. The mini stop tap allows for easy connection of the water hose, without turning the water off at the main.
A pressure-limiting valve prevents blowouts if the water pressure fluctuates. Most appliances will have a maximum pressure that they can handle, and a pressure-limiting valve will ensure the water pressure doesn't go beyond what the appliance can handle. It's also usually a mandatory requirement as part of the warranty.
A pressure limiting valve ensures the correct pressure of water is fed into the dishwasher. If the water pressure is too high for the dishwasher, it can cause a blow-out or affect the appliance's performance, causing it to have a shorter lifespan.
Some dishwashers will have these valves automatically fitted within the water hose, but a plumber will know if your dishwasher does or doesn't have one and will ensure one is installed to guarantee longevity and safe use of the appliance.
Damage by dishwasher leaks may not be covered by insurance
It's easy for a cross thread to occur when connecting the cold water hose to the water point, or under-tightening the waste hose onto the tit of a trap on a sink waste. A plumber will triple check their work and get the dishwasher installed right the first time. For those that aren't familiar with a dishwasher installation, these common mistakes can cause water damage. If the insurance company finds the dishwasher wasn't installed by a licensed tradesperson, a claim for damage can be denied.
Replacing materials in an older kitchen can cause headaches
If a dishwasher installation ends horribly with a flood which requires water damaged floors and cabinetry to be replaced, this can mean a big financial outlay. There is also the issue of finding similar materials to match in with the existing kitchen. The headaches aren't worth the stress. Hire a plumber for your dishwasher installation, not matter how easy it may seem to be.
For professional dishwasher installation, Sydney specialists
Gladesville Plumbing
are your first choice. Call our friendly team today on 9817 4777.