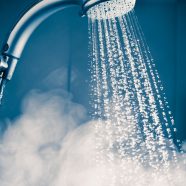 A great way to add value to your home is through the addition of an extra shower. The shower is the preferred way for people to wash and it can often be the most economical fixture to use in the home with the right water saving tapware and fittings. If you need a new shower plumbed into your home, here is what you need to know.
Location Location Location
Most homes will have an existing bathroom. If you're adding a new shower or ensuite that includes a shower, your plumber will need to ascertain how the waste and water pipes will get to the new bathroom. Drainage plans will need to be examined and your plumber will need to make calculations to ensure the waste from the new bathroom will have enough fall to the existing sewer. Before setting your heart on the location of the new shower, organise a consultation with a plumber to ensure the services will reach.
Tempered Water All The Way
The installation of a new shower needs to abide by the Australian laws when it comes to tempered water. Your existing hot water unit should be set to 60 degrees Celsius. If the existing hot water unit has a tempering valve, your new shower will have tempered water. If there is no tempering valve, your plumber will need to fit one to the existing hot water unit to make the new installation compliant.
It's also important to consider whether the existing hot water unit will feed enough tempered water to the additional shower. Your plumber will be able to guide you on whether an upgrade will be needed to ensure both showers can have tempered water at the same time.
Taps and Fixtures
Once the new design of the shower has been planned out, it will be important to choose the taps and type of enclosure for your shower. These days it is popular for an in wall mixer for the tap and to have a screen free shower enclosure. You may also need to consider the number of shower heads you'd like installed. Many people are opting for a hand held shower and rain shower head. These decisions need to be made before the plumber roughs in the new services as they will need to know the location for the water points and outlets for the shower roses.
A new shower can be an exciting addition to your home. It can also be convenient for everyone who resides in the home as it gives the option of availability if one shower is being used.
If you are thinking of getting a new shower plumbed in at your residence, contact Gladesville Plumbing. The team would love to assist you with the design and installation process.