Kitchen Plumbing….. Save Money On Your Sydney Renovation
A kitchen renovation is one of the best ways to increase the value of your home. But a kitchen makeover is not just about long term resale – it's about having a fabulous, functional kitchen right here and now. Unfortunately, kitchen renovations are notorious for blowing out the budget. So how can you achieve a stylish, practical kitchen without throwing money down the drain?
Read our tips and tricks from an experienced Sydney plumber who's seen it all when it comes to kitchen renos!
Keep the layout the same
Working with the existing layout of the kitchen plumbing in your Sydney home can be an advantage, budget-wise. Altering the position of waste and water pipes is often the biggest expense in a major kitchen renovation. If the plumbing in your new dream kitchen can remain close to where the existing services are, you will save loads on materials and labour.
Instead of moving the sink from one side of the kitchen in the existing design to the other, consider keeping it in close distance to the original location. This means your plumber only needs to work on attaching new fixtures and checking the efficiency of taps and drainage, rather than major building work.
Sometimes, the kitchen plumbing can be extended under the kicker (the waste) or through the back of the cabinetry (the water). But keep in mind, the waste will need to have fall to meet plumbing codes and prevent possible blockages. If in doubt, get advice from a suitably experienced and qualified plumber at the design stage of your renovation.
Shop around for plumbing fixtures and taps
If you have your heart set on a gooseneck spray mixer, your dreams can be crushed when you find out the cost is in the vicinity of $1000! If you have specific design elements in mind for your new kitchen, always shop around for the best deal. Remember, however, that super cheap deals may mean poor quality fittings – and buying from a reputable plumbing store gives you a better guarantee of quality than the second-hand market. Once again, if you have a regular local plumber you trust, ask for their advice about suppliers.
Use an experienced local plumber in Sydney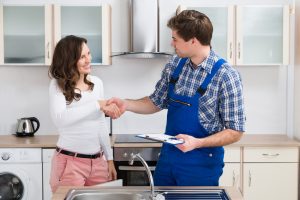 When choosing the trades for your kitchen renovation, go local. A plumber who is familiar with your area understands any environmental issues, knows the best local suppliers and is across all the requirements for local council planning – saving you time and money. Hiring an experienced and local plumber can give peace of mind, too, if there are any problems or delays on your job. They are only a phone call away!
A kitchen renovation can be exciting, overwhelming – and expensive! Try these tips to help you stick to your budget when it comes to kitchen plumbing in Sydney homes. Got a question? Contact the team at Gladesville Plumbing today.
Planning a renovation? Make the most of the kitchen plumbing in your Sydney home by working with a local expert at Gladesville Plumbing.