The Butler's Pantry has become a common inclusion in kitchen renovations. The extra space for storage and preparation can conceal mess and give order to a kitchen. Of course, the design will depend on your space allowance and budget. The use of the area will also determine what is included in your butler's pantry design.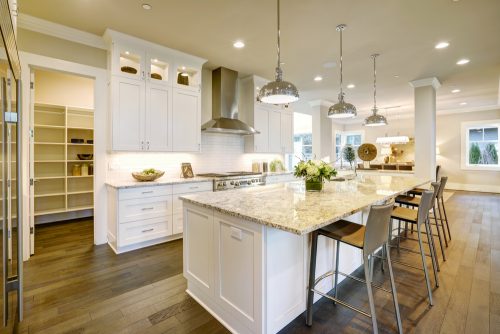 Here are 3 things to consider when making the most of your butler's pantry space and budget.
1. Determine the use for the butler's pantry
The first question to consider when making the most of your butler's pantry design is how the space will be used?  If it's simply for storage of food items and appliances, there will be no need for plumbing. But if your butler's pantry is to be used for food prep and clean up, a sink and dishwasher will be crucial. The inclusion of a water and waste point for these plumbing fixtures can incur extra cost.
2. How to keep plumbing costs to a minimum
Ideally, not having plumbing installed in the butler's pantry will be the cheapest option. But if a sink is a must, consider where the existing plumbing is in the adjacent kitchen. Can the water and waste pipe be run inside cupboards for the connection of the kitchen sink and tap?
New build kitchens will have the services run during rough in. Keeping the pipes in a similar location will reduce labour costs for installation.
A single bowl sink and kitchen mixer are ideal options to keep costs to a minimum. The addition of a dishwasher can be achievable so long as there is a water connection, trap on the sink and electrical point.
If you're renovating an existing kitchen, you may not have a lot of space at your disposal. In this instance, don't compromise the design of your kitchen for the inclusion of a butler's pantry. A functional kitchen is preferable to squeezing in a design trend that may not be practical for your needs.
If you're not willing to compromise on the butler's pantry, consider corner cupboards or even shelving behind doors. The benches in these can hold a sink and tap and can be hidden behind bi-folding doors.
A butler's pantry certainly offers a point of difference in a Sydney kitchen. The limited space in some Sydney homes can make it a difficult task to include a butler's pantry. However, our tips can give you the best of both worlds.
Call Gladesville Plumbing to discuss your butler's pantry design ideas. We can advise you on what is possible with the existing plumbing layout in your property.