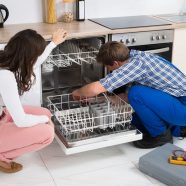 It may be hard to imagine, but not all kitchens in Sydney are equipped with a dishwasher. Shocking, right? But just because a kitchen doesn't have a dishwasher doesn't mean one can't be plumbed in. If you've got a property where you'd like a dishwasher installed, check out our dishwasher installation guide. You may be surprised at how easy it is to reconfigure your kitchen for the new installation.
Check for cabinet space
The first thing to check when installing a dishwasher is to see if there is sufficient space under the sink drainer. Sometimes a cupboard can be converted to allow for the new dishwasher to be installed. You may need a carpenter to remove the cupboard to allow for the cavity needed for the dishwasher.
A dishwasher should be installed next to the kitchen sink to ensure the waste hose from the dishwasher will reach the spigot on the trap so the waste water can go down the sink drain. While hoses can be extended, it's not ideal and can be prone to leaks.
Measure twice
Once the gap has been created for the new dishwasher, measure the depth, width and height of the cavity so you can purchase the right sized dishwasher. It can be super frustrating for the plumber to realise the wrong dishwasher has been purchased and cannot be installed in the new cavity.
Check for services
Once the cupboard has been reconfigured, it's important to check what services are underneath the kitchen sink. You will need to ensure there is an additional water point and an electrical point for power. Both a plumber and electrician will need to be called. Organise the electrician first for the power point, and then organise the plumber to add the water point when they come to install the dishwasher.
Your plumber should install a flood stop valve on the water line for peace of mind. This will shut off the water supply if the cold water hose bursts. It can be a common occurrence for dishwashers to flood a home and this can be prevented with the right fittings installed on the cold water point.
It's important for the electrical point to be installed before the water so that the plumber can turn power on to the dishwasher to test it on its first cycle. The test is crucial to check for possible leaks. A plumber shouldn't leave after installing a dishwasher without at least putting it through one cycle.
It's important to call a trusted plumber when retrofitting a new dishwasher. It can be a fiddly process, but with a little organisation, the new appliance can be installed in no time.
If you're after a dishwasher installation in Gladesville, Ryde and surrounding areas of Sydney, give Gladesville Plumbing a call. Our plumbers are only too happy to assist you with your dishwasher installation needs.