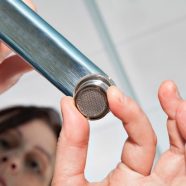 Australia is no stranger to drought. Right now, our farmers are experiencing the worst drought in decades. Below average rain falls recorded for autumn and predictions of a dry summer will require Sydney residents to become more proactive with their water use. The best way to become drought wise is through changing habits and installing fixtures and systems that will assist in reducing your household's water use. Don't wait until water restrictions kick in. Here are some tips for making your home water wise now.
Install a rain water tank
One of the best ways to reduce your reliance on town water is to install a water tank. While we may have a dry summer, any water collected from the roof and down pipes during a storm or rain event, can be stored in a water tank for use around the garden, outdoors and indoors in certain applications.
Tank water can be used to refill your toilet cistern and your washing machine. Gladesville Plumbing can give you a quote and advise on how to install this set up at your home to get it drought wise for summer.
Install water restrictive aerators to all tap spouts
One of the easiest ways to reduce water consumption is to limit the water running through the spout. This can be easily done through the installation of water saving aerators. Your plumber can install these on every spout in your home, reducing the water flow through each tap anywhere between 4 to 8 litres per minute, depending on the aerator.
Install a dual flush toilet cistern
Dual flush toilet cisterns are much more water efficient that a single flush toilet cistern. A single flush toilet will flush 12 litres of water for every flush, but a dual flush will use 3 litres of water for a half flush and 6 litres for a full flush. If your house has a single flush toilet cistern, the whole toilet suite will need to be replaced if upgrading it to a dual flush cistern. A dual flush cistern won't be compatible with a single flush toilet pan.
Install a Water Saving Shower Head
A standard shower head will use approximately 18 to 22 litres of water per minute, but water saving shower heads will only use approximately 9 litres of water per minute. This is a big saving that can affect not only the amount of water you use, but also your utility bills.
The biggest concern with water saving shower heads is the water pressure they produce. But mathematically, a longer shower with a water restricted shower head, will save more water than a shorter shower using a non-restrictive shower head. Gladesville Plumbing will happily give you advice on which shower head will be suitable for your needs.
Whenever a drought occurs, it's important to become conscious of the water used in the household as well as installing mechanisms that can assist in being water wise.
Interested in making your Sydney home drought wise? Contact the team at Gladesville Plumbing for friendly, professional advice and service.